Product Manager @ TruSTAR
Hi TruSTAR Team!
I've gone ahead and created this website as a candidate profile for your convenience.
Background: I first heard of TruSTAR from a former colleague at Contrast Security, Mahesh Babu. Mahesh mentioned he and Patrick go way back and that TruSTAR was looking for their first Product Manager. Patrick and I jumped on a call on Thursday (5/24) where we explored TruSTAR's values, product needs and my experiences.
Here's my Resume and LinkedIn to guide you through my professional narrative.
Ask 50 people what a product manager is and you'll get 50 different answers.
A product manager's job changes per company, industry, and even throughout a day. I have experiences as a researcher, analyst, product manager and consultant. Regardless of job title, I've strived to fuel my work with passion and transparency. I believe strong products are results of a cohesive, dynamic team and communication across internal and external stakeholders. Here are some examples from my experience that highlight this belief: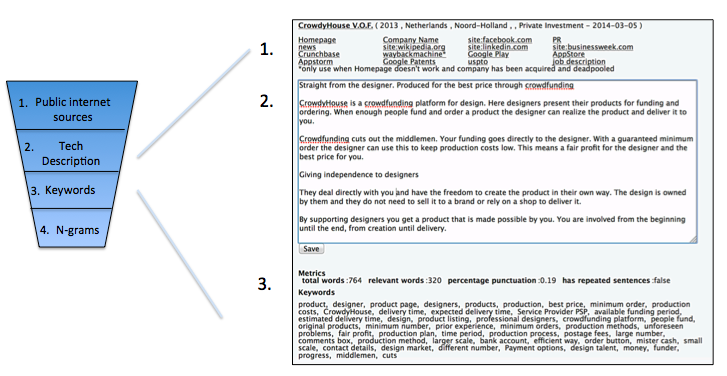 I'm an advocate for developing and amplifying culture, which aligns with Podemos Juntos. As an analyst, I employed data to create a culture of informed decisions. At Glass Lewis and Self Health Network, I partnered with professional services and operations teams to form strategic insights on product and marketing material. My technical acumen and leadership grew while at Quid. I sourced and managed a team of analysts and curated three databases streaming ~1TB/daily. Clean and insightful data were at the core of Quid's values, especially as a data visualization software. I created a client knowledge base and internal business intelligence report system to empower customers and customer facing teams. It was also at Quid where my curiosity with customer demands and analytics sparked an enthusiasm for product development.
Let's talk Product
The TruSTAR Product Manager job description lists out the requirements and functions for the task at hand. I've selected a few examples from my career to highlight my experiences in each area.
Product Management processes
Upserve: I joined Upserve when they were forming a Data Science team from the Platform team. During this transition, the Data Science workload primarily comprised of experimental hackfests tracked in Google docs and received inbound ad-hoc requests from Slack. I transformed the team's requirements and development velocity by implementing a SCRUM-based development process and tracking via JIRA, GitHub and shared Jupyter notebooks.

Sqor: I was the first Product hire at Sqor. I brought definitions of success to features, tracked product performance in dashboards, and presented the product roadmap.

Product School: I was one of the first instructors at Product School and co-authored the Analytics section in the Product School textbook.
My product philosophies are rooted in Pragmatic Marketing (for B2B), Job to be done (for SMB and B2C) frameworks.
Voice of the customer/developer
Upserve

Internal customer: Customer Success sought customized product engagement data for the 7,000 merchants on the network. Some of these merchants had unique hierarchies and user roles in Salesforce that was not configure in our product analytics (Google Analytics and Mixpanel). I teamed up with SalesOps to define, instrument, launch and train the Customer Success team on Totango in an effort to prevent customer churn.

External customer: Square Capital, an integration partner, sought a reporting portal to understand the current marketable customer base for loan offers. Rather than scope an entire staging environment with sensitive data, we opted to create a data feed.

Contracting – Internal Tools: The "voice" of an internal customer is different than an external one. During a contract engagement, I created an employee provisioning and onboarding tool for a startup's IT and HR teams. I was able to resolve the teams' different use cases by first understanding the employee's painpoints and typical journey. Empathizing with the employee's problem and internal stakeholder's requirements, I created an event-triggered workflow that improved new employee satisfaction 65%.
Insights and reporting
Upserve

Item taxonomy: Upserve's Point-of-Sale (Menu) database has ~50M unique items per food category. I owned the development of categorization and creating item taxonomy to use for insights and trends, such as menu analytics.

Industry insights: Upserve has a wealth of information about a restaurant's operation, including labor, tipping and categorical sales. These insights served as a lead generating Restaurant Industry Report in augmenting an internal sales persona tool.

Contrast Security: The Application Security space saw that developers did not find security defects as worthwhile tasks to work on. Contrast began evangelizing to developers with Contrast Labs and attending engineering events such as AWS ReInvent. I owned and managed Contrast research reporting, including the State of Application Security white paper.
Network/graph visualization
Upserve: Guestbook and Guest Identity created a universal profile id and mapped multiple attributes, such as credit cards and social profiles, to a profile. A unified profile enables amateur restaurateurs to understand consumer behavior while more enterprise customers could view a canonical view of dining throughout a network.

Sqor: Fresh from analyst work at Quid, I was quick to define and own AthleteSqor. This influencer marketing product started as a sales enablement tool to target athletes to join the platform. AthleteSqor paired social media engagement and sport performance metrics. This tool provided marketing departments quantified social media intelligence for influencer campaigns.
Why TruSTAR?
I've seen the power of dashboards and BI tools in the DevOps realm. I've worked with applications like SumoLogic and New Relic to extract value from logs. However, I saw that all this still inundated teams with heaps of data -- not insights, trust and especially decisions.
I've attached a network visualization (right) of the cybersecurity space from Quid's content. Data analytics appear in a small pocket between Threat Intelligence and Homeland Security and Packet Management. TruSTAR's platform not only fits but exceeds in this area. I'd be honored to use my data science and process-oriented product background to drive the next growth phase for TruSTAR.
Patrick and I discussed how critical it is to break down silos for Security and Fraud teams. More importantly, communication and trust are essential for early stage companies like TruSTAR. I enjoy bringing data-driven projects to life, but really excel when I have a cohesive team. TruSTAR's values completely align with my professional and product philosophy. I look forward to meeting you and feel out the team dynamic and synergies Patrick mentioned on the call.
Still interested? Learn more about me